Discover your Services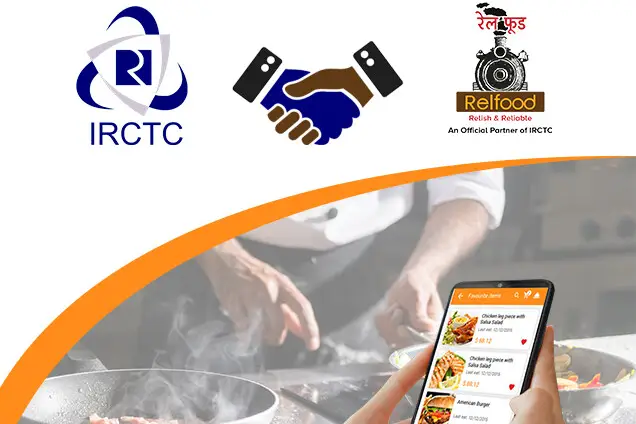 How Food Delivery in Train Works
Choose Your Delivery Location
Delivery Right at your seat
Blog
Tips to Travel Light and Eat Healthy Food on Trains
This is how you can order food online for your parents on the train
Easily check your train coach position online before reaching the railway station
Testimonials
Thanks for your timely supply and really good stuff of food and worth for my payments.. Best wishes to continue the best service ever to all From ACMA UNIDO DHI
Dsekar
Best Platform for foodies found in recent times. Awesome service given by the team. I wish the company should maintain the same standards in its coming days
Mamina bhue
Amazing service and novel idea... served food on time with great taste.... i suggested this app to my friends and family kudos to the team
Anoop simha
Easy yet attractive user interface gives you the best railway food booking experience . give it a try and you will love it
Satya swaroop voora
This is an awesome application providing wonderfu service... in love with it...
Abhishek
Food Delivery In Train
1. Food delivery in trains is a convenient and hassle-free way of enjoying a meal during your train journey. One of the popular food delivery services in Indian Railways is RELFOOD.
RELFOOD offers a wide range of meal options to suit different dietary requirements and tastes. They have tie-ups with various restaurants and caterers across India, ensuring the availability of fresh and hygienic food to the passengers.
The process of ordering food via RELFOOD is simple and easy. Passengers can either visit the RELFOOD website or download the mobile app and place their order. They can choose from various payment options such as online payment, cash on delivery, or even pay at the time of delivery.
One of the best things about RELFOOD is their prompt delivery service. The food is delivered right to the passenger's seat at the designated time, ensuring a hassle-free experience.
Furthermore, RELFOOD takes hygiene and food safety seriously. They ensure that the food is prepared and packaged in a hygienic manner and delivered with proper food safety measures. Additionally, they use eco-friendly and bio-degradable packaging materials, making them a responsible and sustainable food delivery service.
In conclusion, RELFOOD is an excellent food delivery service that offers fresh, hygienic, and delicious meals to passengers traveling by trains. With their easy ordering process, prompt delivery, and focus on food safety, RELFOOD has become a popular choice for train travelers in India.
HOW TO ORDER FOOD IN TRAIN ONLINE WITH RELFOOD
1. RelFood is an online food delivery platform that offers its services to passengers travelling on trains across India. With RelFood, you can easily order your favourite food items and get them delivered right to your seat during your train journey. Here's how you can order food in train online via RelFood:
Step 1: Visit the RelFood website To begin with, visit the RelFood website on your mobile or laptop. You can also download the RelFood app from Google Play Store or the App Store.
Step 2: Enter your PNR number Once you are on the RelFood website or app, enter your PNR number in the given field. This will help RelFood identify your train and the expected time of arrival.
Step 3: Choose your food items After entering your PNR number, you can now browse the menu and choose your desired food items. RelFood offers a wide range of cuisines and dishes to choose from, including Indian, Chinese, Continental, and more.
Step 4: Add to cart and proceed to checkout Once you have selected your food items, add them to your cart and proceed to checkout. At this stage, you will be asked to enter your personal details, such as name, contact number, and seat number.
Step 5: Make payment After entering your personal details, you can now make payment for your order using your preferred payment method. RelFood accepts payments through debit/credit cards, net banking, and digital wallets.
Step 6: Sit back and relax Once you have placed your order and made payment, all you need to do is sit back and relax. Your food will be delivered to your seat during your train journey.
Food Delivery In Train Online Booking Benefits
1. Relfood is an online platform that allows train passengers to order food online and have it delivered directly to their seat on the train. This service is available on several trains across India and has numerous benefits for passengers. In this article, we will explore the benefits of ordering food in train via Relfood.
Wide range of food options: Relfood offers a vast range of food options for passengers, from traditional Indian cuisine to continental dishes. Passengers can choose from a variety of snacks, meals, and beverages, catering to different dietary needs and preferences.
Convenience: One of the most significant benefits of ordering food in train via Relfood is convenience. Passengers can order food online using their mobile phones or laptops, making the process quick and hassle-free. Once the order is placed, the food is delivered to the passenger's seat, eliminating the need to get off the train and search for food at a station.
Hygienic food: All the food served via Relfood is prepared and packaged in a hygienic environment, ensuring that passengers receive safe and healthy food during their journey.
Cost-effective: Ordering food via Relfood is cost-effective compared to buying food at railway stations. Passengers can enjoy quality food at reasonable prices, saving them both time and money.
Timely delivery: Relfood ensures timely delivery of food to passengers, ensuring that they receive their meals at the right time. Passengers do not have to worry about missing their meals or waiting for a long time for their food to arrive.
Customization: Passengers can customize their orders according to their preferences, such as choosing a specific type of bread, sauce, or filling for their sandwiches. This level of customization ensures that passengers get exactly what they want, making their journey more enjoyable.
Cashless transactions: Passengers can make cashless transactions when ordering food via Relfood, eliminating the need to carry cash during their journey. The platform offers various payment options, including credit/debit cards, mobile wallets, and net banking.
In conclusion, ordering food in train via Relfood offers numerous benefits for train passengers, including a wide range of food options, convenience, hygienic food, cost-effectiveness, timely delivery, customization, and cashless transactions. Passengers can enjoy a hassle-free journey by using this online platform to order food during their train travel.
Online Irctc Food Order Booking Tips Vai Relfood (An Authorized IRCTC partner)
1. Here are some tips for passengers who want to order food online via Relfood, an authorized IRCTC partner: Plan ahead: If you know your train's departure time, try to plan your meals accordingly. Check the train's schedule and estimate the time of arrival at the stations where you want to order food. This will help you to choose the right meal for the right time.
Check the menu: Before placing your order, make sure to check the menu provided by Relfood. They offer a wide range of dishes to choose from, including vegetarian and non-vegetarian options. You can also check the prices and portion sizes to ensure that you are getting the best value for your money.
Place your order in advance: To avoid any last-minute rush, it's advisable to place your food order at least 2-3 hours before the scheduled delivery time. This will give Relfood enough time to prepare your meal and deliver it on time.
Choose the right delivery option: Relfood offers two delivery options- "On Seat Delivery" and "Station Delivery." On Seat Delivery means the food will be delivered to your seat, while Station Delivery means you have to collect your food from the designated food plaza at the station. Choose the option that is most convenient for you.
Pay online: To avoid any hassle, it's best to pay online for your food order. Relfood accepts various payment methods, including credit/debit cards, net banking, and mobile wallets. You can also use IRCTC's e-wallet to pay for your order.
Keep your order number handy: Once you have placed your order, you will receive an order number. Keep this number handy, as you may need to show it to the delivery person or at the food plaza while collecting your food.
Check your order: Before consuming your meal, make sure to check your order to ensure that you have received everything you ordered. In case of any discrepancy, you can contact Relfood's customer care for assistance.
By following these tips, you can ensure a hassle-free and enjoyable dining experience while traveling on Indian Railways.
Useful Services For Train Passenger With Relfood
1. In addition to providing delicious and healthy meals for train passengers, RELFOOD also offers a range of useful services to enhance the train travel experience. Here are some of the most helpful services that RELFOOD provides for train passengers
Check PNR Status: RELFOOD has a PNR status checker that allows passengers to check their booking status online. Passengers can enter their PNR number on the RELFOOD website to find out if their reservation is confirmed, on the waiting list, or if it has been cancelled.
Check Train Coach Positions: RELFOOD also has a coach position tracker that enables passengers to check the position of their coach on the train. This service helps passengers to locate their coach easily and avoid confusion or delay when boarding the train.
Train Time Table: RELFOOD provides a comprehensive train time table that lists the departure and arrival times of trains at different stations. This helps passengers to plan their journey more efficiently and avoid missing their train.
Train Platform Locator: RELFOOD has a train platform locator that enables passengers to locate the platform of their train at the station. This service helps passengers to reach their train on time and avoid missing their train due to confusion or delay.
Customer Service: RELFOOD has a dedicated customer service team that is available 24/7 to answer any questions or concerns that passengers may have. They are committed to providing excellent customer service and ensuring that their passengers have a pleasant and stress-free train travel experience.
FAQS On Online Food Orders In Trains
Q.1 - How to order food delivery in train journeys online?
Customers can log on to Relfood Website for Railway food booking or download our mobile app from Google playstore at Google Play Store, enter your journey details, and our automated systems will list all the options for you. You may also call us at +919713231323 or IRCTC call center number 1323, where our team members will be happy to assist you. The same process is also followed in booking group or bulk orders in trains or food orders in non-pantry car trains.
The steps involved in online food booking are as follows: -
1. Enter your 10-digit PNR number or Train Name or number or desired station,
2. Pick restaurant from the list displayed for each station available,
3. Create your order from the chosen restaurant's menu displayed,
4. You can pay upfront online or cash on delivery in train,
5. Order would be delivered at your berth / seat when train reaches at selected station of your journey.
Q.2 - How will a customer know that his order is booked?
At the successful booking of every order, an order ID is generated which is sent to your registered mobile number through an SMS. All registered customers are also sent an email for the same.
Q.3 – Who delivers food to the customers on trains?
Food is delivered by the quality restaurants Relfood has tied up with across India. For example – If your food is booked to be delivered at Bhopal, then the restaurant at Bhopal in our network will deliver that order to you, right at your seat. However, at some stations delivery boys appointed by IRCTC and Relfood deliver the order. All the delivery boys carry a valid ID card issued by IRCTC post background checks of the delivery boys.
Q.4 - Does a customer need to stand at the gate of the railway coach or step out on the platform to collect the order?
Just in case you are too excited to get your food, we advise all our customers to be still seated at their seat / berth only and not move out anywhere. Moreover, we feel it's convenient too.
Q.5 - If the train is running late, then how will Relfood ensure timely deliveries?
Indian Railways have improved a lot, and are normally running on time, but in case of an unfortunate situation of a delay, we would pre-pone your order to a station before (post your approval). This will try and ensure that even if the train is running late, your order is delivered to you around the expected delivery time only.
Q.6 - Can a customer cancel or change his order?
Nothings permanent in this world, and we completely understand that our customers can also feel like changing their journey plans or may get tempted to order something different. We allow our customers to cancel or change their 2 hours before the previously decided delivery time or 8pm on any working day, whichever is earlier. We advise you to please refer to our cancellation policy for details.
Q.7 - How can customers pay for orders online?
Users can pay conveniently through payment gateways integrated online.
Q.8 - What if an order delivery fails?
We hope not coming across such situations given the commitment towards our job shown by our team and vendors, but still if such unfortunate situation occurs, then we would try and deliver the same at the next available station.
Q.9 - What if an order delivery fails and there is no next available station?
In such a scenario we would refund the money taken from the customer and promise to deliver a free order of the equivalent amount when the next time you allow us to help you serve. We advise you to please read the all the points of our 'terms and conditions' of our website for more details and better understanding.
Q.10 - What is E catering in IRCTC?
E-Catering is an IRCTC facility that allows passengers to order and deliver their favorite meals to their seats while traveling. Relfood is an authorized IRCTC e-catering partner that delivers safe, hygienic, and fresh food to passengers during the journey.
Q.11 - What is e-Catering?
E-Catering is a service initiated by IRCTC, especially for passengers to order their favorite meals while traveling. Food can be ordered via the app, website or phone. Relfood is also an e-catering service provider, taking order via app, website, phone or WhatsApp.
Q.12 – How can I book food in IRCTC?
Booking food is much easier with Relfood a Trusted and Reliable name, delivering food to the passengers on the train. Just enter PNR or Train no or Station name and you are good to go. Payment can be made online or by COD. Order can be done through an app, website, phone, and WhatsApp.
Q.13 - Which app is best for food delivery in train?
Relfood app is renowned for food on the train delivery. It offers wide range of cuisines and offers discounts, coupons especially ordering on app. Listed as the top food on the train delivery apps.
Q.14 - Is IRCTC providing food in train?
Relfood among other companies is delivering food to passengers on all the major routes. Relfood is the first company that comes up with the facility of Ordering food on the train on Whatsapp.
Q.15 - How to order food in train?
With Relfood food ordering is quick and much easier. Choose delivery station, select restaurant, pay online or select COD and food is delivered to your seat.
Q.16 - Can we order food while travelling in train?
Yes, you can order meals on the train. IRCTC's electronic catering service is intended solely for ordering food while traveling. Relfood, an established brand and a leading IRCTC partner delivering food to the passengers while travelling.
Q.17 - How do you book food when traveling?
Ordering the food while travelling is made so simple and easier by Relfood, just enter PNR no or Train no or, station name and you are done.
Q.18 - What food can be carried in train?
There is no such dependency when it comes to ordering food online on the train. With Relfood, there is no need to carry food on train. Just order and get the food of your choice.
Q.19 - Which is the best website to order food in train?
There is a website https://Relfood.com where you can order food on the train.
Q.20 - Are meals available in trains now?
Yes, placing order online is the best choice of meals on the train. Relfood is delivering meals to passengers on the train and right to the seat.
Q.21 - Which train food is best?
There are foods that are preferred on train trips. The dry one is the best. Biryani, tikka, snacks, etc. Relfood delivers them all.
Q.22 - How can I get food in train travel?
Options are available to get food during the journey but the best one is to order food online on the train as it is safe and hygienic. Relfood is delivering safe and hygienic food to your train seat.
Q.23 - How do I add food to my train ticket?
Once your ticket is confirmed, you can pre-order food. Relfood is giving you the option to add the food to your ticket.